Chamber Membership Begins Here
San Antonio LGBT Chamber of Commerce is dedicated to fostering and promote a positive image of LGBT persons as well as the economic development and vitality of LGBT businesses and the businesses and professional organizations that support them, and, to facilitate the personal, professional and social growth of its Members via the exchange of ideas, resources, information and networking opportunities throughout the greater San Antonio metropolitan area!
The Chamber is a membership-funded organization. We are not a government agency and receive no funding from any federal, state, or local government. Because we are not connected to government, we are a powerful force for business advocacy and a valuable resource for our members and our community.
When you join the Chamber, you, your company, your employees, and the community all benefit. If you want to improve your bottom line, develop better employees, and become part of a positive force in San Antonio's LGBT economy then YOU belong in the Chamber.
Joining the Chamber is easier than ever and gives you the freedom to connect in ways that serve and grow your business.
Membership Levels & Benefits
Membership Investment Options
The San Antonio LGBT Chamber of Commerce offers five member benefits packages from which to choose.  The information below outlines the benefits for each level. Choose the membership benefits level that meets your goals and budget. You can upgrade at any time.
Chamber memberships are billed annually in January of each year. Amount paid when joining will be prorated. The full amount of will be billed in January of the following year.
Companies with 100+ employees or businesses looking for additional visibility are invited to explore the Chamber's Corporate Partner levels.
Learn more here.
Managed Membership Programs
Businesses that wish to receive additional benefits and services while demonstrating a greater level of support for the Chamber may consider an Executive Membership or President's Circle Membership.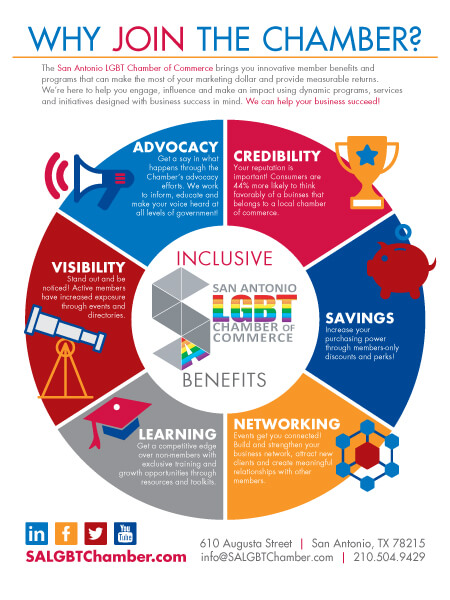 Don't own a business but want to connect with other professionals and support the Chamber's mission focused on LGBTQ+ economic inclusion?  
Individual Memberships are for non-business members who would like to be connected to the San Antonio LGBT Chamber of Commerce and who do not have a business to promote. A personal membership is a great way to connect with LGBTQ+ and Allied professionals and community in the region!
Visit the Individual Membership Page to learn more and apply.  Join TODAY and get connected to some of San Antonio's best LGBTQ+ networking opportunities!